In another step in its transition from city-to-city intermodal operations to an intermodal hub-and-spoke system, BNSF is shutting down the Fresno intermodal facility and cancelling at least nine weekly trains between Fresno and Chicago.

The BNSF hub-and-spoke system involves shipment by rail of ocean containers to large intermodal railyards, where they are transferred to heavy diesel trucks for shipment to cities as far as 500 miles away.

As noted in the news article below, discontinuation of the Fresno intermodal operations will allow BNSF additional rail capacity for shipping oil and other oil industry freight.

BNSF anticipates Fresno-area customers will now ship eastbound containerized freight by truck between that city and their Stockton or San Bernardino intermodal rail yards.

Assuming just nine weekly trains were cancelled, this intermodal shift could add as many as 130,000* annual diesel trucks trips to the California road network, with the most significant traffic, diesel emissions, and health impacts in Stockton and San Bernardino.

*assuming 280 double-stacked containers on a 2.1 mile train
————————————————-
Source: Journal of Commerce

BNSF to end Fresno-Chicago intermodal services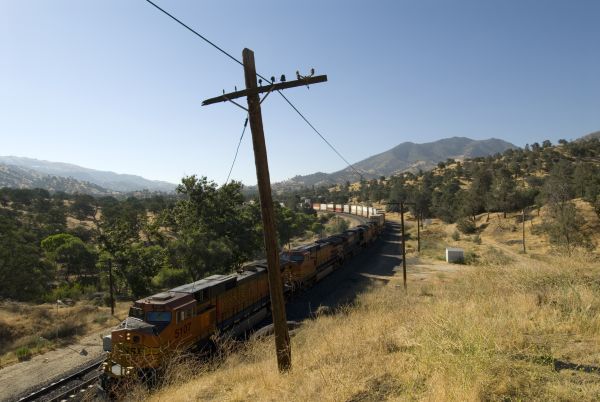 BNSF Railway will end its weekly intermodal services between Fresno, California, and Chicago, in early December, citing a need to consolidate its services to "provide more consistent and frequent" service for California Central Valley shippers.
The services — offered five days a week to Chicago and four days a week for trains heading to Fresno — will end Dec. 8, BNSF spokesman Amy Casas said in a Sept. 10 email. The transition to intermodal services offered out of Los Angeles, San Bernardino and Stockton will cut down on transit times by up to 24 hours and improve frequency, with some service gaining daily frequency and multiple cutoff options, she said.
"All other operations at BNSF Fresno Rail Yard will continue," Casas said. "BNSF remains committed to the Fresno community and its customers through this transition."
BNSF is ending the service because it wants to focus resources on serving the domestic energy market by shipping oil, frac sand and other related products, said an executive at a refrigerated transportation provider who asked to remain anonymous. The executive said the decision was also partly based on BNSF's decision to diversify its reefer services to serve major shippers, including Kraft, Nestle and ConAgra Foods, rather than just Central Valley produce shippers that were historically served by the service.
The decision to end intermodal service out of Fresno was "not in any way associated with oil and energy-related traffic out of the Bakken" Shale, and, instead, was about providing intermodal shippers with better options, Casas said.
The growth of oil shipments and other energy-related loads, along with a rise in other types of freight, has caused rail delays in parts of BNSF's network, particularly its Northern Corridor. BNSF said it's aggressively working to restore network fluidity after adding locomotives and train crews to the corridor. The railroad also is spending $1 billion to improve capacity on the corridor connecting the Pacific Northwest to Chicago.
Cold Train, a provider of reefer intermodal transport from Washington state throughout the rest of the country, in early August said it was forced to
suspend service
because of BNSF's decreased on-time reliability, reduction in train services and the near-doubling of transit times. Following the announcement, BNSF said it was disappointed that the reefer service would end, but said "changes were required to provide more accuracy in transit times."