Diane Bailey, Senior Scientist for the NRDC and participant in the Moving Forward Network, is a key figure in the battle to protect Californians from the dangers of crude oil transport by rail. Check out the background information and interview below, from
Planetshifter
Magazine.
More information and how to get involved: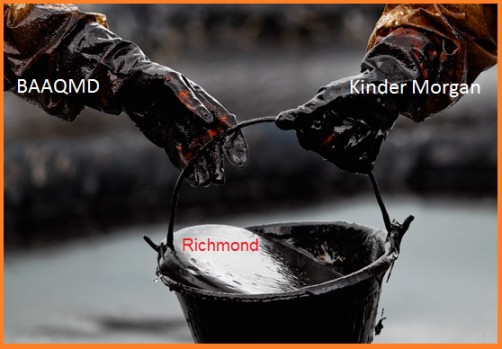 Introduction –
On March 28, 2014,
Earthjustice
filed a complaint and injunction request on behalf of Communities for a Better Environment (CBE), the Asian Pacific Environmental Network, the Sierra Club, and the Natural Resources Defense Council (NRDC) in the San Francisco Superior Court against Kinder Morgan and the Bay Area Air Quality Management District (BAAQMD) to halt the shipment of highly explosive and toxic crude oil into the City of Richmond, a community already burdened by intense pollution caused by the fossil fuel industry. Please see their
press release
.
Transportation of crude oil issues are complex, charged politically and pit rail road and petroleum interests against fears of oil spills, train fires and community destruction in cities and towns along the "right of way." In this case, an historic and never ending series of environmental justices in Richmond, CA.
Background –
"
Richmond residents
are already over-burdened when it comes to pollution in our community and toxins in our bodies," said Sandy Saeteurn, an APEN Richmond Organizer. "The idea of trains carrying explosive Bakken crude oil in and out of our neighborhoods is outrageous. It's like BAAQMD just pulled the pin off of a bomb, allowing it to roll all around town, knowing it's only a matter of time before it stops ticking, and explodes on all of us."
The Air District (
BAAQMD
) issued Kinder Morgan a permit to operate its crude-by-rail project in early February, without any notice to the public or environmental and health review. The case asks the court to halt operations immediately while the project undergoes a full and transparent review under the California Environmental Quality Act (
CEQA
).
Yes, there are those who will say that an accident is a 226 year event. That's nonsense. Recent train accidents across the country were caused by human failure; and there is no way to mitigate human failure; and the downside of such a cataclysmic event just a mile from a population area is to horrific to imagine.
Email:
Laurance Shinderman, Santa Maria Refinery Rail Development Plan, 1/13/14
I don't know of any anti-oil train groups that suggest the Oregon highway expansion plan should be stopped, or are doing large scale practical food relocalization to reduce the use of oil in agriculture and food distribution. Email, Mark Robinowitz,
oilempire.us
, Eugene
(Phillips 66) said it has "one of the most modern crude rail fleets in the industry, consisting of railcars that exceed current regulatory safety requirements and it began modernizing its crude fleet in 2012 "as a proactive precautionary measure to safely capture the opportunities of the rapidly changing energy landscape." "
Berkeley City Council Votes to Oppose Crude By Rail Plan
"
* * * * * * *
Interview with Diane by Willi
How did Kinder Morgan get passed the CEQA process in the first place? Status of the Kinder Morgan permit to operate its crude-by-rail project?
KM already was operating the rail terminal for ethanol tanker trains. The air district (illegally in our opinion) issued what they called a ministerial permit, claiming that the "change of use" didn't cause enough of a significant emissions increase to trigger CEQA (we disagree with the air district). The air district issued a final permit to operate in February, 2014; the KM terminal has been accepting crude oil trains since last Fall.
Do Communities for a Better Environment (CBE), the Asian Pacific Environmental Network, the Sierra Club, and the Natural Resources Defense Council (NRDC) advocate for direct action? Will you block the trains if necessary?
Some of the groups may consider it.
Do City Councils have power to redirect or stop crude oil on rail lines on their land?
Yes, in some cases, especially where a rail terminal is within city boundaries, they can deny the land use permit, change the zoning of that property or otherwise take legal action to prevent a new rail terminal from being built.
In general, is a short train safer train vs a mile long train? What are the locomotive and track engineering factors in this equation?
A short train may be safer than a mile long train as there are fewer cars that could be involved in an accident. However, more effective measures to improve oil train safety include more robust tanker cars, lower speeds, improved track conditions, routing away from populated areas and several other operational factors. Majority of the tanker cars are of a design that is highly susceptible to rupturing during an accident and has raised serious concerns across North America. In fact, Canada is forcing their replacement due to dangerous design flaws and the U.S. is expected to take similar action, but this will take years to phase in. In the meantime, whether the crude oil trains are a mile long or shorter, they are hurtling through densely populated neighborhoods and communities putting hundreds of thousands of people in harm's way.
Are you concerned about where the refined crude oil will be sold? The supply chain of the oil business?
Yes, we are concerned that already overburdened refinery communities could become pass through zones where dirty crude oil is directly exported, or refined and then exported saddling those communities with additional impacts. Our greatest concern, however, is that greater quantities of dirtier, more dangerous crude oil could come to refineries, increasing pollution and safety hazards in those areas, regardless of where the products are destined to.
Does the petroleum industry and first responders have provisions in place to address a worst-case scenario involving a train carrying crude oil?
Not that we know of.
Please define environmental justice and help us understand the Kinder Morgan PR spin?
Communities of color, which are often poor, are routinely targeted to host facilities that have negative environmental impacts. Environmental justice is an important part of the struggle to improve and maintain a clean and healthful environment, especially for those who have traditionally lived, worked and played closest to the sources of pollution. The KM facility is a total environmental injustice.
California's railroad bridges as described as a significant rail safety risk. Why?
We have heard repeatedly from our community partners that many railroad bridges are old and in poor condition and that they fear for the safety of heavy rail use of those bridges. However, we are unable to verify this and wonder how the bridges could have fallen into such a state of reported disrepair.
Who does Bay Area Air Quality Management District (BAAQMD) work for officially; unofficially?
BAAQMD is a government agency with a mission to protect air quality and public health in the nine county area. They are governed by a board of elected officials from the region and staffed by employees who are public servants – they work for us. In practice we have found many BAAQMD actions and activities to appear more in service to the industries they regulate than the general public and in direct conflict with their mission (e.g. issuing the Kinder Morgan crude by rail permit without a CEQA or public process).
What groups, governments and/or companies want crude oil on rails to continue unabated? Are their lawyers, bloggers and consultants who we should know about who support this dangerous industry?
We know of no groups, elected officials, individuals or companies who want crude oil rail transport to continue unabated, except for the oil and rail industries.
* * * * * * *
Diane Bailey's Bio –
Diane is a senior scientist in the health and environment program, has been working at NRDC for the last nine years promoting the reduction of diesel exhaust, air toxics, and global warming pollution. Her work has focused on hotspots of air pollution created by goods movement facilities and other major sources. She came from Citizens for a Better Environment, where she was assessing the hazards of air toxics for a children's health project. She has worked on projects including emission control strategies for state implementation plans, air toxics analysis on the petrochemical industry, soil contamination mapping, sustainable business, brownfield rehabilitation, water treatment, and environmental auditing and inventories. Diane has a B.S. in Chemical Engineering from Washington University and an MS in Environmental Engineering from Rice University.
Connections –
Title:
Stop Crude-by-Rail at Kinder Morgan's Rail Facility in Richmond
START DATE:
Saturday May 31
TIME:
1:00 PM – 3:00 PM
Location Details:
520 Castro St., Richmond
Take Richmond Pkwy exit from 580, turn R. Richmond Pkwy becomes Castro. Meet at 520 Castro St. entrance to Kinder Morgan train yard, intersection w/ Hensley, across from General Chemical (closest parking is up Hensley).
Event Type:
Protest
 If the Government Won't, the People Will…..
STOP CRUDE OIL BY RAIL SHIPMENTS TO RICHMOND!
Stop pollution of our communities and our climate!
SATURDAY, MAY 31, 2014 AT 1 PM
PROTEST AT KINDER MORGAN'S RAIL YARD
520 CASTRO STREET, RICHMOND, CA
SHUTTLES WILL PROVIDE RIDES FROM RICHMOND BART — 12:15-12:30 pm

The Bay Area Air Quality Management District issued a permit to Kinder Morgan to operate its crude-by-rail project to import highly explosive and toxic fracked Bakken (North Dakota) crude oil into Richmond, a low-income community of color already burdened by pollution caused by the fossil fuel industry. BAAQMD issued the permit without public notice or opportunities for public comment.

The number of trains carrying crude oil has risen dramatically due to increased drilling in both the Alberta tar sands in Canada and the Bakken shale oil area of North Dakota, and the number of serious accidents has also increased.

We the people must raise our voices and send a loud and clear message that more pollution from dirty crude oil and tar sands is not acceptable in the Bay Area or anywhere else. KEEP THE OIL IN THE GROUND!

Sponsors: West County Toxics Coalition, Greenaction for Health and Environmental Justice, Sunflower Alliance, 350 Bay Area, Idle No More/SF Bay, ANSWER/SF, Communities for a Better Environment, Environmental Justice Air Quality Coalition, Asian Pacific Environmental Network, Global Community Monitor, Forest Ethics

Added to the calendar on Sunday May 25th, 2014 6:19 PM
Import this event into your personal calendar.